Last Updated on April 17, 2021 by Serish | I Hated My Boss
So I'm literally laughing my arse off writing this article about unusually creative ways to make money when broke.
Perhaps I've got nothing better to do than search for odd jobs during this time of social distancing, in efforts to slow the spread of the coronavirus (aka Rona).
Whatever the case, I figured share some interesting side hustles (while spreading some laughter as well).
>> By the way, if you're looking for work from home jobs hiring right now, grab your free list below.
17 Unusually Creative Ways to Make Money When Broke
As the saying goes: desperate times call for desperate measures…
While some of these may seem awkward, they're indeed legit ways to make some extra cash when you're in need (without losing your dignity, of course).
So if any of these gigs are your cup of tea, you can thank me later.
On a serious note: please exercise caution if you plan on meeting strangers. Always meet in public places and let one to two friends or family members know of your whereabouts.
Wanna read this post later? Pin it here:
(This post contains some affiliate links, at no cost to you. It helps me create free quality content for my readers. Thanks for your support!)
1. Sell your feet pics
Did you know– you're literally standing on your best asset? Yeah, no kidding. Foot fetish is surprisingly a real thang!
(I was once told I had pretty feet and was offered a free meal at In-N-Out. Yes, I was offended…I prefer Chick-fil-A).
People will actually pay you to send them your feet pics.
Need proof? Instagram influencer, Jessica Gould, has made over $90,000 snapping photos of her feet.
Luckily for you, there are apps that have made the process of selling yo' feet pics a lot easier, such as InstaFeet.
2. Matchmaker
If you haven't had any luck with relationships, or you just simply suck at it…
Doesn't mean you're not good at hooking other people up!
If you have charisma, are a good-listener, attentive and task-oriented, you can apply to become a matchmaker at Tawkify.
Their website claims a success rate of 80%. Heck, you might as well become a client and give relationships another try.
3. Rent a friend
Social media ain't the only place where you can fake it til you make it.
Now you can show people in real life that you got hella friends.
Thanks to RentAFriend, get paid up to $50/hour to accompany someone to sporting events, go partying, watch a movie, or simply hang out.
Not only is it free to join, but you also get to keep 100% of the money you earn.
Since the company doesn't do background checks, it's always best to follow their safety standards.
4. Professional cuddler
And if you thought this list of unusually creative ways to make money couldn't get any weirder…
You can actually get paid to cuddle in a legit and non-sexual way.
Now, this may not seem like the best side gig during a time of self-quarantining, however…
Companies such as Cuddlist, are now offering "virtual cuddle sessions" during social distancing.
And check this, the current market for a professional cuddler is $80/hour. So yeah, it might be time to quit your day job.
5. Mock jury trial
Ok, so this one may not be as wacky as the ones mentioned above.
But did you know you can participate in mock jury trials?
Now what exactly is a mock trial?
Basically, it's an imitation trial that allows lawyers to test a case and prepare for the real trial.
In fact, I took part in one many years ago as part of a research study (and got paid $500 for a 2-day mock trial!).
Companies, such as eJury, will pay users $5-$10 per case, depending on the length of each case. According to their website, an average case lasts 35 minutes.
>> Take part in other research studies and get paid up to $150/hour
6. Sell photos of yourself
Photography isn't just for professionals anymore. Thanks to smartphones, it has changed the world of photography.
You can make money by selling photos of yourself to stock photo sites such as Shutterstock.
And just like other side hustles where you can make money fast, this is also a creative way to earn some extra cash online.
FYI: If you're not comfortable plastering your face all over the internet, you can still sell pics of just about anything.
7. Become a living statue
Ever visited a large city and seen those gold or silver statues? Yeah, those are real people who get paid up to $200+/week. 
Though this income stream will vary based on your city's demographics and population, this is by far one of the most unusually creative ways to make money when broke.
In fact, there's a step-by-step online guide on how to become a live statue. Check it out.
8. Sell your hair
Got luscious locks and don't mind chopping it off to make some moola?
If you didn't already know this, some of the best wigs on the market today are made from 100% human hair.
With that in mind, selling your hair online for cash has become increasingly popular in recent years.
BuyandSellHair is like the eBay of selling and buying hair. They claim to be the #1 human hair marketplace where you can get the highest price for your hurr.
And as stupid as this advice may sound, it should be noted: don't take out the clippers until you have received payment.
9. Mystery shopper
If you like to shop, dine at restaurants, and gamble– you can now get paid to do it all.
A mystery shopper (aka undercover customer) poses as a customer and visits businesses to evaluate the appearance of their store and quality of customer service.
It's a pretty fun and creative way to make money and get free products and services.
As long as you're 18 years or older, detail-oriented and have internet access, you can apply at Bestmark to become a mystery shopper (or as they like to call it– a field representative).
>> Read Next: 33 Creative Ways To Make Money Online
10. Get paid to flirt
Probably one of the best side gigs for introverts, you can now earn money to make someone else feel loved.
Get paid to text and have day to day conversations with people.
You can apply to become a Chat Operator at textingfactory and get paid weekly.
An average texter earns $300-$400 per week, while some are making up to $3,000 a month! Wowzers.
11. Rent a date
Have you watched the movie Office Christmas Party?– the scene where Nate hires an escort just to impress a couple of co-workers?
Ok, probably not the best reference but, did you know people actually rent significant-others to attend weddings, family gatherings and company events?
So if you don't mind being rented out for a few hours while meeting new people, eating free meals and getting paid, then check out WhatsYourPrice.
And ya never know, you might end up finding Mr. or Mrs. Right.
12. Cry at funerals
You can get paid sobbing at funerals by becoming a moirologist (yeah, it even has a professional title).
The idea is to basically grieve at funerals to increase the appearance of the deceased person's popularity.
If that surprises you, here's another shocker: professional mourning has been around for thousands of years, originating from China and Egypt, and is very common in many cultures.
So if you wanna earn some cash from your salty tears, take some tips from this man who charges up to $1,000 to actually jump into the grave crying.
13. Attend events
Kinda like renting a friend, but instead– businesses and restaurants will pay people to make them "look busy and popular."
This may mean dining at restaurants, attending parties, or leaving testimonials for online products or apps.
So if you wanna make some extra cash, get paid $5-$100 per event with the Surkus mobile app (available on iOS and Android).
>> Like this list of unusually creative ways to make money when broke? Share it with your friends!
14. Wait in line
Ever seen or stood in those mile-long lines during a product launch?
What if I told you this guy made $14,000 in one day standing in line? Yes, you read that correctly.
Robert Samuel raked in fourteen grand during the iPhone 5s release.
In fact, there are apps like Placer where you can become a professional stand-in-liner and take up paid gigs in your local area.
15. Flip blogs
As a blogger myself, of course I would include it in this list of side hustles.
But first, you must be wondering what a blog is.
Basically, it's about writing topics you're so darn good at, then offering it as a service to make money.
For example, I blog about 'how to blog', and offer coaching services to help new bloggers reach their goals.
Though starting a blog is not unusual, did you know you can create, grow and then sell it for thousands of dollars?
All you need to invest is your time and the cost of hosting (less than $4 a month).
Learn how you can start a blog in 10 easy steps with my free guide.

16. Do weird shit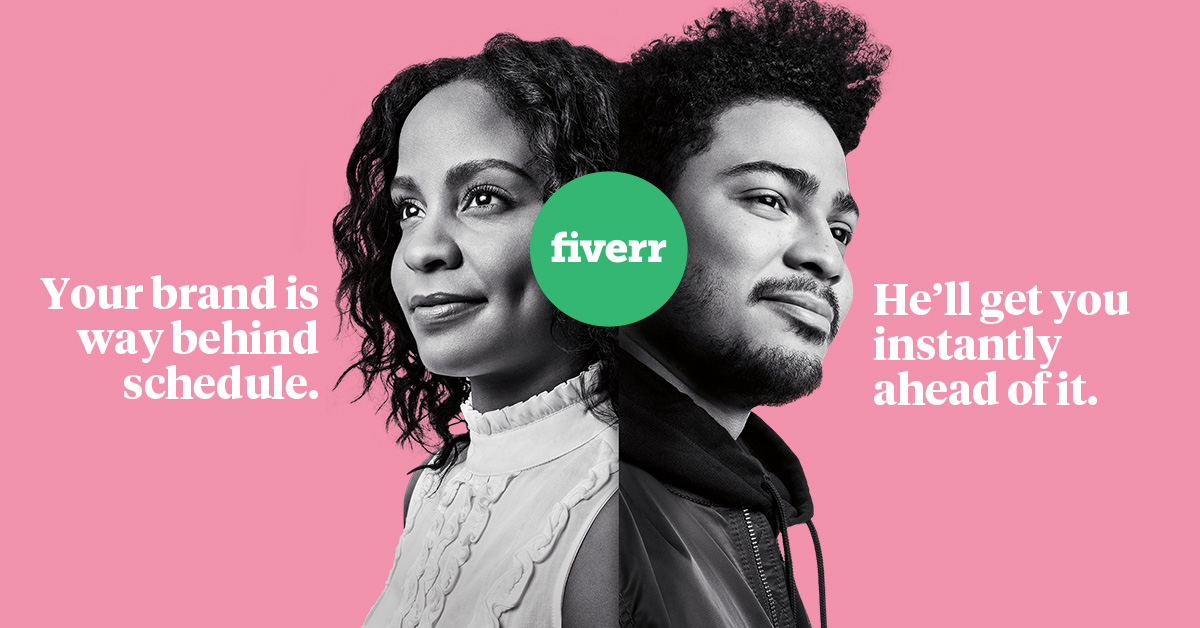 Wanna unleash your weirdness…I mean uniqueness?
At Fiverr, you can offer random gigs starting at 5 bucks.
Some of these hilarious gigs include creating a puppet video, impersonating celebrities, dancing to a song in a veggie costume (LOL!), being someone's Facebook boyfriend or girlfriend…the list goes on.
And now that I think of it, it's an excellent platform to make extra cash doing some creative (and unusual) stuff.
17. Lose weight
Did you ever think you could get paid to lose weight, without having to apply for The Biggest Loser?
At Healthy Wage, you can join weight loss challenges and actually get paid to shed pounds.
This is a great way to hold yourself accountable, and they even have a prize calculator to see how much you could win.
Current highest prize is $10,000.
Wrapping Up: Unusually Creative Ways to Make Money When Broke
That's all I've got for today!
Have you tried any of these 17 unusually creative ways to make money? If so, let me know in the comments section below!
And if you're looking for more "real" ways to make money online, check out these related articles:
Enjoyed this post? It would mean the world to me if you'd share it with your friends: