Last Updated on November 1, 2021 by Serish | I Hated My Boss
Chances are, you landed here after clicking a Pinterest pin on how to start a successful blog and make money in 2021.
Whether it was luck or fate- you clicked on the right post, because this isn't your typical, half-assed 'start a blog' guide.
It's far more valuable.
Here's the thing: almost anyone can start a blog today. It's really that simple.
But what most bloggers won't tell you is, what the heck do you do AFTER you've launched your blog?!
You see, it took me nearly a year to launch this very blog you're on right now.
Why, you ask? Because all the free blogging guides didn't tell me what to do after my website went live.
And I don't want the same for you. I want to help make your blogging journey easy and fun, because I know what it felt like to not have proper guidance during my beginner blogger days.
That said, I've I put together this comprehensive 10,000+ words guide that'll help you not only start a successful blog, but show you how to make money your first month blogging.
At the end of this post, you'll have your very own blog launched and on your way to earning your first $1,000!
Ready? Let's begin!
Wanna read this post later? Bookmark this page or Pin it here:
(This post contains some affiliate links, at no cost to you. I only recommend products and services I absolutely love or use. This helps me keep this guide completely free of charge. Thanks for your support!)
What is Blogging, Really?
Blogging is about providing valuable and consistent information about topics you are passionate about– whereas the writing style is typically informal and conversational.
You're basically creating an online platform to share your life experiences, skills, your failures (proudly), achievements, and anything else that sets you apart from the rest.
All in all– blogging gives you a voice, allows you to promote yourself, improves your writing skills, makes you a better person, and gives you a career.
The best part? You get to do it all from the comfort of your home.
Is Blogging For You?
Now that you have a better understanding of what blogging is, you must still be wondering if it's something for you.
Here comes the hard truth:
Most. bloggers. fail.
(If that scares you, then blogging is probably not for you).
Like any business, blogging IS a business.
I am in no way trying to discourage you.
I just really want you to understand what the blogging world entails, especially if you're planning on quitting your day job and making this your career.
No, you don't need a degree in computer science to create a website. Nor do you need to be a professional or established writer.
Heck, my grandma can start a blog if she wanted to (no shade, granny).
But hear me out though…
I'm gonna be brutally honest with you– starting a profitable blog takes time and effort.
Yes, creating a website in 2021 is easy peasy, but growing your blog and making money from it is where the challenge lies.
And my goal here is to help you do it the right way from the get.
Now, let's shed some positive light about blogging…
Benefits of blogging:
Make money online– man, let me tell you this: you can make loads of money blogging. I'm talking enough moolah to quit your boring, cubicle-sitting, annoying 9-5 job. Heck, you can even retire early! You have the luxury to travel the world and do what you love the most, all while making substantial dough. Even better, you can blog part-time, set your own hours and still make a six-figure income.
Refine your writing skills– the coolest part about blogging is that you don't need to be a professional writer to start. As you continue to write several blog posts, your writing skills will improve over time. Plus, you can always go back and edit the older blog posts later. When I first started blogging, I had absolutely ZERO writing experience. Not implying that I'm the best writer today, but I've definitely improved (or so I'd like to think).
Super low start-up costs– fortunately, starting a blog is quite cheap. You can easily create a new website and make it go live on the internet for as little as $3.95/month. I pay less than fifty bucks a YEAR to keep my website running. Yes, you can start a blog for free using a free platform, but you won't be able to monetize (make money) due to several restrictions– which I'll talk more about later in this guide.
Create your own brand– one of the best ways to earn passive income and considerable amount of money, is by turning your blog into your own personal brand. This can be achieved by creating products such as online courses, eBooks, digital downloads, and/or providing one-on-one consulting services. The opportunities are endless and you are in control of the products and services you create.
Though blogging is work, it's totally doable and so worth it when done properly.
So if you think you've got this and are down to start blogging, let's get this party started!
Related Articles:
How To Start A Blog and Make Money in 2021
Before we get started, make sure to download this free Blog Launch Checklist to help you stay organized throughout this guide.
Just enter your name and email below, and I'll send it over to your inbox!
1.

Who's My Audience?
Knowing your audience is by far the most important step before starting your money-making blog.
If you want to monetize your blog by selling products (eBooks, crafts, online courses, etc.), then you must narrow down your audience to establish a profitable blogging business.
When you cater to a target audience, or a specific niche, it will help attract loyal and repeat readers.
For example, I blog about how to make money blogging and I also help new entrepreneurs start their online business.
What makes me qualified to blog about these topics?
Long story short– six years ago I launched an online women's clothing business and it generated over $80,000 in sales the first year.
I managed to utilize social media and influencer marketing strategies, along with publishing prom and wedding guides, to drive massive traffic to my website.
You can read more on my story here.
Essentially, the idea is to provide incredible value and solutions to problems that will make other people's lives easier.
Here are three important questions to ask yourself to get an idea of your niche.
1.) What struggles have I faced?
2.) What am I so darn good at?
3.) What problems can I solve?
You really only need to answer one of these questions to be able to get an idea of who your potential audience can be.
In the next section, we're going to dive in deeper and work on finding your ideal niche market.
How to Find Your Niche
In this section, we'll be doing some brainstorming exercises to help you decide on a niche.
So grab a pen and paper; you'll want to take notes and write down anything that comes to mind.
When thinking of ideas for your niche, here are a few things to consider:
Your…
experiences
interests
expertise
Overall, you want to see how you can help others.
Here are some questions to ask yourself when finding your niche audience:
What…
are my hobbies?
am I best at– from my personal life to my professional?
do my friends and family love most about me?
are some of the struggles I've faced in life? How did I overcome those roadblocks?
are some of the things I've accomplished in life?
Once you find a topic you want to focus on, ask your self these next set of questions:
How passionate am I about this particular topic?
Am I comfortable writing about this?
Am I willing to share this information with the world?
Will people benefit from it?
Can I make money from this topic?
Niche-finding exercise
Let's do a short exercise that will help you find your niche.
Say you chose fitness as your topic.
Nice. But it's too broad.
In the fitness world, there are many subcategories:
Yoga
Weight loss
Health
Nutrition
Weight training
For the sake of this example, let's pick weight loss and break it down a little further:
Ketogenic diet
Low-carb diet
Paleo diet
Weight loss for diabetics
Post-pregnancy weight loss
See how we're getting somewhere?
But we're not done yet. Let's dive deeper…
We'll go with post-pregnancy weight loss.
So, who will be our target audience?
>> New mommies who want to lose that baby weight.
What can you write about?
Healthy recipes
Personal weight loss story (people love reading about other people's stories!)
Best weight loss programs
How to shed baby fat
Short and quick exercises
How to create a workout routine
How can you monetize?
Diet meal plans
Write an e-Book
Weight loss tea
Weight loss supplements
Combine all of the above and create a bundled package
I hope the above exercise has helped you sort out what niche you would like to consider.
Still stuck? Check out this free Google Trends tool.
This helpful tool will give you an idea on whether people are searching for your topic or not.
It also provides data on how the topic has been trending over the years.
The image below shows how post-pregnancy weight loss has been steadily trending over the past 5 years.
For obvious reasons, this will always be a trending topic…unless women stop caring about losing baby weight altogether.
I'm sure you got the idea 🙂
Here are a few related articles you may want to read:
Blog Topics Ideas
Now that you have an idea of who your audience will be, it's equally important to narrow down your blog topics.
Afterall, the purpose of blogging is to write about what you're most passionate about.
Besides, what's the point of writing about a topic that you're not even excited about?!
To give you an idea of what you can blog about, check out the general list of blog topics below.
If there is more than one topic you're interested in, that's totally fine!
Just make sure they are related and relevant to your audience.
For example, fitness and food can go hand in hand because you can write several different blog posts about fat-burning workouts and healthy dinner recipes.
FOOD & DRINK
HOME COOKING
WINE & CHAMPAGNE
BBQ EQUIPMENT
GRILLING
RECIPES
HEALTHY FOODS
VEGAN
PLANT-BASED
BAKING
BUDGET RECIPES
TRAVEL
BUDGET TRAVEL
TRAVEL TIPS
EXPAT GUIDE
LIVING ABROAD
SOLO-FEMALE TRAVELERS
YOUR TRAVEL EXPERIENCE
FAMILY VACATIONS
LUXURY VACATIONS
BEAUTY
SKIN CARE
SKIN ROUTINE
BUDGET MAKEUP
MAKEUP TIPS
MAKEUP TUTORIALS
HAIRCARE
CRUELTY-FREE MAKEUP
VEGAN MAKEUP
MAKEUP TOOLS
ECO-FRIENDLY MAKEUP
DIY BEAUTY TIPS
HEALTH & NUTRITION
HEALTHY RECIPES
MENTAL HEALTH
MEDITATION
DIETS
SUPPLEMENTS
NATURAL REMEDIES
KETOGENIC
PALEO
FITNESS
YOGA
POST-PREGNANCY
FAT-BURNING WORKOUTS
GYM MEMBERSHIPS
CROSSFIT TRAINING
HIKING
SWIMMING
PILATES
CYCLING
OUTDOOR FITNESS
RELATIONSHIPS
FRIENDSHIP
MARRIAGE
DATING
MOVING-IN TOGETHER
RELATIONSHIP ADVICE
DIVORCE
RELATIONSHIP COUNSELING
STARTING A FAMLIY
BREAKUPS
PERSONAL FINANCE
BUDGETING
INVESTMENTS
STOCKS
RETIREMENT SAVINGS
PERSONAL SAVINGS
FINANCIAL PLANNING
FINANCIAL FREEDOM
CREDIT
FASHION
WOMEN'S FASHION
MEN'S FASHION
FITNESS FASHION
LATEST TRENDS
FASHION TIPS
PLUS-SIZE FASHION
ACCESSORIES
SHOES
BUDGET-FRIENDLY
SUSTAINABLE FASHION
BUSINESS
STARTING A BUSINESS
GROWING A BUSINESS
E-COMMERCE BUSINESS
MARKETING
BUSINESS FOR BEGINNERS
BEST PRACTICES
ENTREPRENEURSHIP
DIGITAL NOMAD
WORK FROM HOME
SOCIAL MEDIA MARKETING
DROP SHIPPING
HOBBIES
DIY PROJECTS
ARTS & CRAFTS
WRITING
GARDENING
HOROSCOPES
MUSIC
TECHNOLOGY
CARS
PHOTOGRAPHY
SPORTS
DANCING
BOOKS
ANIMALS
FISHING
INTERIOR DESIGNING
KNITTING
SEWING
The possibilities are endless and I'll probably be here for years if I write em' all down!
I hope this list gave you a general idea of some niche markets to think about.
2. Pick Your Blogging Platform
If you want to publish your blog posts, you'll need a blogging platform.
A blogging platform is basically the home for all of your blog articles.
If you've been doing some research, then I'm sure you've come across tons of free blogging platforms.
And I'm also certain you've seen WordPress popup several times in your search.
But, it all comes down to the purpose of your blog.
If you're looking to create a money-making blog, then WordPress.org is your smartest bet.
If you type in just "WordPress" into Google, you'll see two options popup: WordPress.com and WordPress.org.
In fact, you probably didn't even notice there were two of 'em (neither did I at first).
But before we discuss the difference, it's important to know what WordPress is.
WordPress is a platform where you can build your website.
It allows you to create new blog posts, content, add menus, and pages (i.e. About Me, Disclosures, Privacy Policy).
At the time of writing, WordPress runs 34% of all websites on the Web!
Now let's break down the differences between these two siblings.

WordPress.com
The main difference between the two comes down to hosting.
I'm going to discuss hosting more in-depth in the next section, but for now, here's a preview:
In order for your website to be available and seen on the internet, it needs hosting.
With WordPress.com, the platform itself is completely free and hosting comes with it.
Also, it's easier to use.
As wonderful as that may sound, there are many downsides to this.
Firstly, your website will be placed under a subdomain.
A subdomain looks like this:
www.ihatedmyboss.wordpress.com
…which doesn't look professional and it makes your site look like a newbie.
Secondly, there are major restrictions:
You get limited storage space
Can't remove WordPress ads or branding
Won't be able to monetize your blog
Can only use the themes it comes with
Unable to install plugins
Plugins are basically used for extending the functionalities of your website.
For example, think of them as apps on your smartphone.
Apps allow you to listen to music, get on social media platforms, call an Uber, etc.
They enable you to do endless amount of things to improve your quality of life and make it easier.
With WordPress.com however, you can't use plugins.
You can only use the default features it comes with.
In other words, you are super restricted.
And that's going to suck if you're trying to make money.
WordPress.org
On the bright side, with WordPress.org– you host your own site.
Though the platform itself is free to use, you will need to pay for hosting.
However, with hosting companies like Bluehost— which is officially recommended by WordPress, you can have a fully functioning website for only $3.95/month.
This special price is offered to all my IHMB readers.
Furthermore, you'll have the ability to monetize your blog by adding the free WooCommerce plugin, which enables you to sell products directly on your website and accept payments.
Also, you can use your own domain name without the WordPress branding.
So your domain will look like this:
YourDomainName.com
Instead of:
YourDomainName.wordpress.com
Not only do you have the luxury to add as many plugins as you want to customize your website, you can also use any theme to create your dream website.
It's actually really cool what all you can do with this platform.
---
>> New blogger? Get your WordPress website designed within 48 hours!
---
However, there's one thing worth mentioning…
Due to all the customizations offered, WordPress.org can be a frustrating platform to use; especially for new bloggers.
But don't let that discourage you because Bluehost got your back!
With a Bluehost hosting plan, you automatically get their Blue Flash plan for free.
This brand new service was launched last year and it's been heaven sent for new bloggers!
WordPress is automatically downloaded for you and an expert will guide you through every single step to get your website up and running.
We'll cover more of this in the next section.
All in all, with WordPress.org, you have more control over your website and the ability to monetize it (which is the purpose of this guide!).
3.

Choose Your Blog Name
Let's pick your blog name, or domain name.
Your domain name is basically the name of your website.
For example, mine is: www.ihatedmyboss.com.
Choosing a domain name for your blog is actually really fun and gets your creative juices flowing.
So grab your notepad and start writing down whatever names comes to mind; even if you think it sounds ridiculous.
Here are some things to consider when choosing a domain name:
unique but not too wordy
should be short and memorable
don't use derogatory words
your audience can easily pronounce it
want to use your name? Go for it!
Did you know…
The payment giant PayPal used to be X.com? It sounded pornographic so they eventually changed it to PayPal.
So choose your domain name wisely and make sure it's not hard to remember, type or pronounce.
Which domain extension to use?
Now, another thing we should discuss here is which domain extension you should choose.
Basically, a domain extension is the last words in your website's address, after the "dot."
For example: ihatedmyboss.com
I'm sure you've noticed some websites using .co, .org, .gov, .net and so forth.
If you're running a non-profit organization, then you'd want to go with .org.
But it should be noted– a common and recognized domain format is the .com, so I highly suggest you stick with it.
It's what most people are already familiar with and it'll be your safest bet!
Check Domain Availability
Congrats on picking your domain name!
Firstly, you'll want to make sure it's available and not already taken.
So go on over to Name.com to check your domain availability for free.
Once you enter your domain name and click the blue search button, it will tell you if your domain name is available.
In the event your domain name is taken, it will give you similar suggestions on what's available.
There are so many sites where you can buy a domain name, but don't do that just yet!
Because you'll get a FREE domain for the first year with Bluehost (a ~$15 savings).
4.

What's Web Hosting?
To run any online business or blog, you'll need a place to host it.
In other words, if you want people to see your website, you'll need hosting.
Web hosting is basically the home of your website.
When you create a website– all of your files, images, and content (blog posts) need to be stored somewhere safe. That place is your hosting company's server.
Additionally, the amount of storage you'll need, will depend on the hosting plan you choose.
However, as a new blogger, you'll just need a basic hosting plan to get started.
Why selecting the best hosting company is important
In order for your website to succeed, it's crucial to start your website with the right hosting service.
If you select poorly, your website might be too slow to load, have security issues, or even worse, crash your whole site!
Yeah, you can migrate your website later on, but why go through the hassle?
But that's also not something you'll need to worry about because I've done all the homework for you.

There are literallly hundreds of web hosting companies on the market today.
And if you're cheap like me, you're probably looking for the lowest price hosting plan out there.
Well, hosting isn't something you want to cut costs on…ever!
As mentioned earlier, going with a cheap and unreliable hosting company can crash your website— and when you need immediate support, their tech team may not be available around the clock.
This will result in visitors exiting your website and possibly never returning.
With that being said, Bluehost is by far the best value hosting company on the market right now.
And with everything they include– even with their most basic plan, it's affordable and a one-stop shop for new bloggers.
Bluehost powers over 2 million websites and is officially recommended by WordPress.
They were also kind to offer my IHMB squad over 50% off hosting, starting at only $3.95/month.
Normally, their Basic plan starts at $7.99/month.
If you're on a tight budget, the Basic plan will get your site up and running.
You can always upgrade later once your website traffic starts to pick up.
However, the best value is their Choice Plus plan.
As you can see from the pricing guide above, for only a couple of dollars a month more, the Choice Plus plan comes with a bunch of features.
Again, if you don't need any of the additional services, simply go with their Basic plan.
And if for any reason you're not happy, they offer a risk-free 30-day money-back guarantee.
As mentioned earlier, WordPress.org is not the easiest platform to work with.
It can be especially overwhelming and complicating for new bloggers.
However, Bluehost simplifies the entire process with their Blue Flash service.
Early last year, Bluehost launched this incredible free service, which is basically comprised of an expert team who will guide you through setting up your entire WordPress website.
Dude, we're talking building your website, installing all necessary plugins, guiding you through navigation and basically training you every step of the way.
This is pure GOLD for new bloggers!
---
If you're looking for feminine WordPress themes, Bluchic has beautiful themes which you can also customize to match your personal branding!
---
I wish this service was available years ago because I had to do everything from scratch and it was extremely frustrating.
The best part– this service is absolutely FREE with any of the Bluehost hosting plans; even the Basic.
You will not find this service anywhere else for free.
Let's quickly summarize –
So far you've learned what hosting is, why it's necessary and why choosing the best hosting service is vital for your money-making blog.
Here's a run down of what you'll get with Bluehost:
Free Domain for the first year (saves you ~$15+)
Free SSL security certificate (typically $69.99+ elsewhere)
Unmetered Bandwidth
Free Email (not free with other hosting companies)
Over 50% off nearly all hosting plans
Free one-click WordPress installation
Free Blue Flash website setup ($99+ elsewhere)
24/7 Customer Support
30-day money back guarantee
Set up BlueHost
I will walk you through the sign-up process, step-by-step, and you'll have a beautiful looking website in no time.
Let's begin!
Step 1: Visit BlueHost
Head on over to Bluehost by clicking here.
Now, go ahead and click the big green Get Started button.
Step 2: Choose Your Plan
Here you will select the plan that best fits you and your budget.
Simply click the Select button for your plan of choice.
Step 3: Select Domain Name
Once you have chosen your plan, choose one of the three options that applies to you:
Create a new domain– enter the domain name you have already chosen and click Next
Use a domain you own– if you already bought one elsewhere, enter your existing domain name and click Next
I'll create my domain later >– you can always set this up later
Step 4: Create Your Account
Account Information:
Here you will enter your personal information.
Package Information & Package Extras:
To take advantage of the promo offer, select the 3-year plan.
I know this might sound like a long time, but keep in mind that you're investing in a reliable hosting company.
Plus, when it's time to renew your plan, you will not get the promotional offer again.
Your plan will renew at a higher price.
However, if you're on a budget right now, or feel the cost is a bit pricey, then there's nothing to worry about because you can select the 12-month plan.
Important: Make sure to uncheck all the extra features that you may not need before continuing to payment.
Payment Information:
Enter your payment information.
To complete your purchase, accept the terms and hit the Submit button.
If you want to pay with PayPal, click more payment options.
Step 5: Create Your Password
Congratulations! You have successfully set up Bluehost and all you have to do now is create your password to log in to your account.
Click create your password and follow the prompts.
Once you've signed up for Bluehost, skip all the technical stuff and simply call their 24/7 support team: 844-741-1192
An expert will walk you through setting up your website.
This is a great opportunity for you to learn the WordPress dashboard with the help of an expert.
5.
Set Up Important Site Pages
Wow! You are almost done setting up your website and I am extremely proud of you!
Next, we will create the following important pages for protecting your blog, as well as for legal purposes.
Legal Pages
1.) Privacy Policy
To make sure you comply with the law and Google policies, you must have a privacy policy page set up on your website.
This page discloses to your website's visitors how their information may be collected and used.
Additionally, this gives your readers peace of mind and builds trust.
2.) Terms & Conditions
Though not required by law, a Terms of Conditions page is highly recommended— especially if you're a blogger.
This is a legally binding contract between you and your website's visitors.
Basically, it informs your users how they should use your website based on the guidelines and rules you set.
Some examples are: users must not post harmful or defamatory content under the comments section, spam other users, or use your content and logo for personal or business use– as they are protected by international copyright laws.
3.) Affiliate Disclosure
If you're looking to monetize your blog through affiliate partner programs, then you must have an Affiliate Disclosure page on your website.
In fact, if you live in the U.S.– you are required by the Federal Trade Commission (FTC) to disclose any commission you'll earn from the products or services you recommend.
In a nutshell, this is to protect consumers from deceptive marketing practices, but it also works as a form of transparency between you and your users.
Use TermsFeed for all your disclosures
For all my disclosures, I used TermsFeed. They have free agreements available, but if you want a more premium disclosure– it will include more clauses and you only pay for what you need.
Their prices are super cheap. I paid less than $4 for my disclosures.
How to Add Pages to Your WordPress Website
After TermsFeed creates your agreements, you will need to create separate pages for them in your WordPress website.
Go to your WordPress dashboard.
Hover your mouse over Pages and click Add New.
Here, you will add the title of your agreement.
For example, Terms and Conditions.
Next, paste your agreement to the body of the page as seen in the image below.
Then click Publish.
Repeat these steps for all of your agreements.
How to Write Your About Me Page
Alright guys, this one is a pretty big deal.
As a blogger, one of the most important pages you should create is your About Me page.
"Like, seriously? Do people actually read the About Me page?!"
Yes, for real!
The truth is, your readers want to know about you. They want to know your unique story.
But…
What they really want to know is how you can help them.
In other words, your About Me page is really about…them!
Crafting a winning About Me page tells your readers who you are and how you're going to help them.
And most importantly…
They want to know what makes you qualified, or what sets you apart from the others in your industry.
Basically, you want to include the who, what, where, when, why and how.
Yes, you're pretty much selling yourself to your readers by introducing yourself, sharing your picture and telling your story.
But you're ultimately here to solve their problem or provide value of some sort.
So seize this opportunity to gain your readers' trust by telling your personal story and then directing it back to them.
Now before you start typing away, I want to point out some key points your About Me page should include.
---
>> Here's a snapshot of mine. Click to read my full story.
---
What a Good About Me Page Includes:
Who you are
What you do
Tells your unique story
Where you're from
How long you've been doing this
What can you do for them
Comforts your reader
Be natural and honest
Inspires trust
Includes a picture
Humor (but don't force it)
Things to Avoid in Your About Me Page
Do NOT…
sound pushy or aggressive
make it sound like a sales pitch
make it sound corporate-like
be repetitive
brag or show off
write in third-person form
offer too much personal information for security reasons
Finish it off with a call-to-action!
The last thing you want is to create a darn good About Me page, have your readers love it and then they forget about you and never come back to your website.
You want to make sure they stick around and return!
Examples of a call-to-action:
Ask them to sign-up for your newsletter (include link)
Contact you if they have any questions (don't include if you won't respond)
Say hello to you on social media (pick one platform, don't overwhelm them with multiple options)
Ask them to bookmark your website
6. Google Analytics and Google Search Console
Now that all of your important pages are set up…
Let's prepare your website to monitor traffic.
So, when visitors land on any of your web pages, you're able to track their activity and collect important data.
Moving along, it's vital that you have these two free tools set up on your website: Google Analytics and GoogleSearch Console.
A very useful digital marketing tool, Google Analytics (GA) basically provides valuable insights about your audience.
In short, this free tool tracks the behaviors of your website's visitors in real-time.
For example, you'll be able to see which page your visitors are currently on, the number of visitors on your website at a given time, their location, the device they're using (mobile, desktop, tablet) and so much more.
This will give you a better idea into which content or blog post is performing the best, and which one's you should focus on improving.
Plus, Google Analytics is completely free with a Google account (gmail).
If you don't have a gmail account, no worries because you can sign up for a free account at any time.
I will walk you through that process in a minute.
Also, I'll show you how to add GA to your WordPress website as well.
Another free and important tool is the Google Search Console (GSC).
To ensure your website is running smoothly and without errors, the GSC tool will give you a rundown on which pages need fixing.
This can range from webpage speed (if a specific page is taking too long to load), to pages people are clicking on the least.
Additionally, it will also tell you which pages are performing the best; allowing you to analyze what's working and what's not.
One of the best parts of this tool is you'll receive email notifications if Google finds any errors– allowing you to fix the issue as soon as possible.
This is important because visitors will exit your website if, for instance, your website is taking too long to load.
Did you know:
Statistically, people will exit your website if it takes more than 3 seconds to load, though most will probably leave sooner than that!
In addition, a slow loading speed will make your website look unreliable.
With that being said, it's vital that you're aware of any issues your website may be experiencing, which will allow you to optimize (to make functional) that specific page.
Setting Up Google Analytics
In this section, I will walk you through setting up your free Google Analytics account.
Step 1: Create Gmail Account
If you don't already have a gmail account, click here to sign-up for a free account.
For those with an existing gmail account, skip to Step 2.
Enter all required information and click Next.
Next, Google will ask you to verify your phone number by sending you a text message.
Once you enter the verification code in the verification field, click Verify.
Then, you'll be prompted to accept Google's terms. Simply click Agree.
Your gmail account is now set up!
Step 2: Sign-up for Google Analytics
Click here to go to Google Analytics.
Your page should look like the image below.
Click on Start for free.
You will be redirected to the sign-in page.
Here, you will enter your Google account email or phone number, and your password.
Click Next.
Step 3: Account Setup
Enter your Account Name (your blog/website name).
Under the Account Data Sharing Settings, you'll see 4 boxes prechecked.
Leave them as is, unless you don't want Google tracking particular data.
Click Next.
Step 4: Choose Your Measure
Choose the option for Web: Measure your data.
Click Next.
Step 5: Property Setup
Enter your Website Name (i.e. I Hated My Boss).
Enter your Website URL (i.e. https://ihatedmyboss.com).
Choose your Industry Category
> If your industry isn't listed, choose Other
Reporting Time Zone
> This will automatically default based on your location's time zone
> To select a different time zone, simply choose the one you desire
Click Create.
Step 6: Accept Terms
Next, you'll need to accept Google's Terms of Service Agreement before proceeding.
Tick the appropriate fields.
Click I Accept.
You're Google Analytics account is now set up!
Your dashboard should look like the image below with your unique Tracking ID displayed.
We only have two more tasks remaining in this section. It'll be quick, I promise!
Connect Google Analytics to WordPress
To track your website visitor's behaviors, your Google Analytics must be integrated with your WordPress website.
Install Google Analytics Plugin
In another browser, open and sign-in to your WordPress dashboard.
It should look something like this:
From the left sidebar (see above image), point your cursor towards Plugins.
Click on Add New.
In the search field on the right, type in Google Analytics and hit enter.
Find the plugin: Google Analytics Dashboard for WP by ExactMetrics (see above image).
Click Install.
Then click Activate.
…this should only take a few seconds.
Once the plugin is activated, watch the helpful tutorial below to complete the final steps (forward video to 2:10).
(that's not me, btw)
Set Up Google Search Console
Thanks to Google, they have simplified this process by automatically verifying your Google Search Console if you already signed up for Google Analytics.
All you have to do now is…
Click here to go to the GSC page.
Then click Start now.
When you enter, you will already see GSC dashboard displayed on your screen!
But since your website is new, you won't see any data here just yet.
Once your website goes live and people start to visit, Google will provide you with performance data on this screen.
For now, go ahead and just bookmark the GSC page so you can access it later.
Congratulations! You have now successfully set up your blogging website!
7.

How To Write Killer Blog Posts
By now, you've got your hosting and WordPress website all set up, your niche market figured out, and legal pages created.
And now you're ready to start writing some winning blog posts!
Let's go over some best practices and tools to help your blog posts flow smoothly.
Blogging best practices
When it comes to writing blog posts, there are endless articles online on "how to write a blog post."
Although the tips and tricks offered may have worked for that specific blogger's audience, it may not necessarily work for yours.
However, there are some proven methods that actually work on a consistent basis that'll drive visitors to actually read your blog posts, which I'm going to share here.
It's important to note: as the likes and dislikes of readers evolves, even these principles may change over time.
1. Define Your Audience
Earlier in this training, we talked about the importance of knowing your audience and did some exercises to help you niche down.
Do you remember we discussed the fitness example of post-pregnancy weight loss?
Similarly, when deciding what to write, it's important to narrow down your blog topic to reach a specific audience.
Let's look at an example:
Say you're really good with money management and want to help others by sharing some of your effective money-saving tips.
In that case, you decide to write a blog about teaching people:
How to save money
But that's such a broad topic– I mean there are thousands of ways people can save money for all sorts of different things.
And if your content is too general, it will not resonate with your readers.
In-fact, it may not even apply to most of them.
So we gotta do better by creating super targeted content for them.
With that being said, let's narrow down our topic to this:
How to save money for a car
Much better! You're speaking to an audience who not only wants to save money in general, but for a specific purpose— a car.
Although it's good, we can really get down to our readers' core issue:
How to save money for a car when you have low income
Now we're talking!
The thing is, when you speak to a targeted audience, chances that they'll actually end up reading your entire post and signing up for products or services you recommend, is fairly high.
You create a sense of trust and establish authority when you write about a specific topic.
It acts like a personalized plan to help your reader's solve their problem or reach their ultimate goal.
2. How to Write Catchy Headlines
If you want your blog posts to get opened, you must write attention-grabbing headlines that'll attract your readers.
Your title should be specific, beneficial to your readers, and should also trigger curiosity to drive people to click on your posts.
At the same time, however, don't get strung up trying to perfect the headline.
Once you're finished writing your blog post, the headline you initially chose may not even be relevant anymore.
Plus, you can always go back and change it later.
For example, when I first started writing this guide, I intentionally chose a simple headline: "How to Start A Money-Making Blog."
I then changed it again a few times more and finally settled on "How to Start A Blog and Make Money in 2021: Free Ultimate Guide."
Just make sure your title is catchy, creates curiosity, is relevant to your post and talks to a specific audience.
Use numbers in your headline.
By including numbers in your headline, it gives the reader a better understanding of what to expect from your article.
This type of format is called a listicle.
Not only is it organized and easier to read, but it tells your readers how many new things they'll learn from your article.
Another tip is to include the current year in some of your blog titles. For instance:
The Ultimate SEO Guide for Beginner Bloggers (2021)
By doing so, readers will know your article is fresh and up-to-date.
However, this won't be necessary if your article is about something static that won't necessarily change over time.
For example: How to Tie Shoe Laces in 2021
I mean, there are really only a couple of different universal ways you can tie shoe laces.
Yeah you can get creative, but ain't no one got time for that!
If you're still unsure whether or not your headline is a winner, check out this free headline analyzer tool from CoSchedule.
Now this is a super neat tool that inspects your headline and rates it from 0-100 (100 being the best).
Even if you've already created a headline and published a blog post, you can always modify it later.
So go ahead and take your headline for a test drive!
3. Crafting Your Introduction
Now that you've written a catchy headline and your readers have opened your article, you gotta make sure they stay!
What's the point of having thousands of people open your article but they don't end up reading it?!
Writing a captivating introduction ensures your audience is curious and eager to read the rest of your post.
In fact, when people visit your web page and exit within a few seconds, this actually affects your SEO rankings.
Additionally, make sure to mention the benefit your reader will get out of it.
Here are five blog writing pointers to help improve your intros:
1.) Express Empathy
Firstly, you want your readers to know you understand them by showing empathy.
This can be done by using set of words like:
Hey, I get it.
I know how you feel, I've been there.
By triggering your readers' emotions, you are expressing that you care for them by providing solutions.
With that being said, two of the greatest emotions you can trigger are either greed or fear.
As an honest blogger, you want to trigger the latter.
It is your duty to appeal to your audience by offering honest solutions to help them reach their goals.
For example, I created this free guide for people who are either fearful of ditching their 9-5 job to start blogging, or those who don't know how to start a blogging business.
By letting them (you) know that it is indeed possible to blog your way to financial freedom, have the flexibility you deserve and live a lifestyle you've always dreamed of.
2.) Keep it Natural
Secondly, your style of writing should be conversational and not corporate-like.
The biggest thing you want to avoid is using fancy words or sound condescending.
Think of it this way: it's almost like talking to your friend…but with less curse words 😉
Your readers will feel comfortable and essentially turn into repeat visitors.
3.) Make it Short and Sweet
Thirdly, your intro shouldn't be too long. Try to keep it between 100-150 words, or even less.
If you start rambling on and on, your reader will quickly lose interest and exit your website.
A successful introduction should be short, interesting and keeps the reader wanting more.
Not to toot my own horn, but take a quick look at this intro from one of my blog posts.
Ultimately, your introduction tells your audience what they can expect to learn if they continue reading, or how they'll benefit from your article.
The goal here is to keep your readers drawn-in, so they can keep scrolling down the page.
4.) Don't Be Deceitful or Misleading
As the saying goes: treat others the way you want to be treated.
It's really THAT simple!
Don't be deceitful and pull a bait and switch tactic! This will affect your credibility and people will avoid your website in the future.
And most importantly, don't overpromote products and services just to earn a quick buck or two.
Only include affiliate links to products or services that you genuinely trust, or feel will benefit your audience.
Even if you don't use the product yourself, doesn't mean it's not a great product for your readers.
To be more clear, let me give you an example of a deceitful headline:
You write a blog post and title it the following:
5 Tips to Increase Your Blog Traffic
However, once the reader opens your article, he/she notices that instead of 5 tips, you have listed 5 affiliate products that are irrelevant with growing blog traffic.
Your "helpful" article was actually a deceitful tactic to sell products to benefit you, and not your reader.
Simply put, don't be greedy!
5.) Offer Valuable Content
I don't think I can stress this enough…
Offering valuable information in each of your blog posts is the secret ingredient to running a successful blogging business.
Now, you must be thinking– if you give away too much information:
how will I sell my online courses?
how will I monetize this way?
exactly how much information should I give away?
Remember, you aren't creating sales pages.
You are crafting blog posts that are helpful and informative to your readers.
You gain credibility this way and your ideal reader feels comfortable enough to value your recommendations– thus converting into a sale.
Of course you don't want to give away your secret recipe…and you shouldn't.
That's when you should create a product, such as an online course.
And your ideal reader will understand that creating courses or products requires a lot of time and effort, therefore justifying the fees.
I love using metaphors. I may suck, but let's use one anyway:
You're the car and your reader is the driver.
In order for the driver to get from point A to point B, he/she needs to pump enough gas to get them to their destination.
However, if the driver wants to take a long roadtrip, he/she must ensure the car's tires aren't worn out, maintenance is up-to-date, and headlights are properly working.
All that comes with a cost.
Likewise, treat your blog article as the 'gas' in the above example, and your paid online courses as that long roadtrip your reader needs to take to reach his/her final destination (goals).
4. Formatting Your Blog Posts
Here are six tips to format your blog posts so that it's optimized for blog SEO and also enjoyable to read.
Font size between 14pt-18pt
Break up your sentences
Have decent amount of white space
Use images
Include headers
Use bold and colored text often
Since majority of readers use their mobile phones, it's important to make sure your font size is large and easy to read. A good font size is between 14pt-18pt.
Also, avoid fancy fonts and definitely don't TyPe LiKe tHis (ha!).
Moreover, make sure to break up your sentences so there's a good amount of white space (notice how I've done throughout this guide).
You can also do this by including headers— the most common headers to use are the H1, H2, and H3.
When viewing content on your blog post, the visual structure of your post encourages readers to keep scrolling down the page. So, be sure to include fitting images throughout your post that corresponds to your blog topic.
Last but not least, highlight important information by making certain words bold, and also use colored text for your hyperlinks.
8.

Get Traffic to Your Blog
In this section, you will learn what social media marketing is and how it can help your blog traffic tremendously.
When it comes to going digital, the best place to start is where most people already are — social media platforms.
What's great about having a social media presence is that you don't need any experience or money, whatsoever, to get started.
What is Social Media Marketing?
Social media marketing (SMM) is a marketing strategy that uses social media as a tool.
The term itself is pretty self-explanatory, but let's give more depth to its meaning.
SMM is the management of content posted on social media platforms.
This includes creating and scheduling posts– with the purpose of engaging followers.
Basically, the goal of SMM is to tap into a pool of billions of social media users to whom you can market your products and services to.
Done the right way, people will come to your website and sign-up for your services or buy your products.
How important is it to have a social media presence?
Let me hit you with some interesting facts real quick…
According to recent online reports, there are approximately 4.5 billion internet users in the world, of which 71% use social media every. single. day.
If you don't have an online presence, you're missing out on the opportunity to connect with and target billions of potential loyal followers!
What do I need to get started?
As mentioned earlier, there is no start-up costs for social media marketing.
The only thing you need to invest is your time and willingness to educate yourself with the platform.
One of the perks of social media marketing is that you can do it practically from anywhere on the planet, as long as you have internet connection.
You may also like:
Which platform should I use?
This is a great question and it will depend on your niche.
Of course, it's great to be on all the major platforms– such as Facebook, Instagram, Pinterest, Twitter and Snapchat.
However, I don't want to overwhelm you with too many options.
Plus, when you're juggling so many different platforms as a new blogger, it's hard to keep up.
This results in nothing getting done and most new bloggers get burnt out quickly. So it's best to start slowly.
Two Must-Have Platforms to Increase Blog Traffic
Of all the major platforms, my two absolute favorites are Pinterest and Facebook.
And you should know why these two platforms are highly recommended.
Think of Pinterest like a scrapbook, but online. It allows users to sort, organize and also re-pin someone else's pins.
It's also a visual search engine and the rising star of social media platforms.
Currently, it outranks Youtube, Twitter and Google Plus in referral traffic to external websites.
Basically, Pinterest is currently the BEST platform to get free traffic to your blog.
That is HUGE and a gold mine for bloggers!
In fact, recent stats show that 87% of Pinterest users purchase a product they see on Pinterest, while 40% have a household income of over $100k.
Moreover, you can create endless "boards" to organize the pins according to the categories they belong to.
Boards are like visual folders to help you stay organized.
>> Must-read: How I Tripled My Blog Traffic with Pinterest
What I love most about Pinterest is that it's not oversaturated and it drives A LOT of traffic to external (your) websites.
And check this…
Most Pinners are already in the mindset to buy or sign-up for a service.
Personally, I use Tailwind to boost my Pinterest engagement and most importantly– it drives massive traffic to my blog posts.
This tool by far has been my go-to for increasing blog traffic.
You can sign-up for free here and for the first 100 pins you post, you pay absolutely nothing.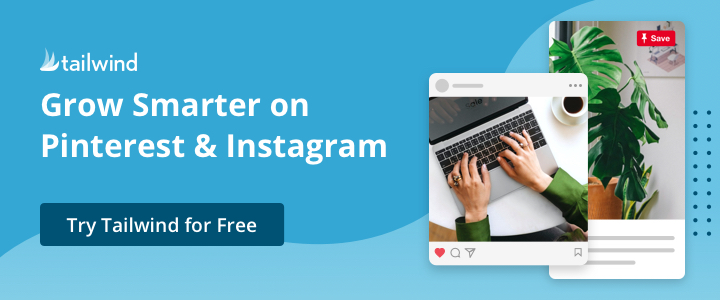 I'm sure you're no stranger to Facebook.
Facebook is said to be the birthplace of social media marketing.
In fact, it has retained its position at the top as the biggest and most comprehensive advertising platform the web has to offer.
With more than 2 billion active monthly users, all sorts of demographics are represented here.
It's totally free to use and you can create a business page for free as well.
You can also use the business page to schedule and post your content.
One of the best features of Facebook (for bloggers, especially) is creating a group where you can really engage and connect with your audience.
This allows you to create an online community with like-minded individuals where everyone helps one another.
And once you familiarize yourself with the business side of a Facebook account, you can start running ads for as little as $5!
>> Check this out: Free Social Media Marketing Plan
9.

Create an Email List
To build a long-term relationship with your readers and convert them into potential customers, we need to collect their emails.
In order to do so, you must sign-up for an email service.
Though there are a number of email marketing services to choose from, I will discuss the one that's best for new bloggers (and it's FREE!).
Before we move forward, I want you to have a better understanding of what email marketing is and why it's so important for your blogging business.
What is email marketing?
One of the best ways to connect with your visitors, email marketing gives you the ability to get in touch with your readers even after they leave your website.
By collecting their email address, you are able to engage with them by sending regular email updates.
You can do this by emailing quality content– such as new blogs posts, new courses, new products, etc.
This builds a loyal following and also increases repeat visits from your most trusted readers.
Additionally, if you're looking to monetize your blog, having a reliable email marketing service is crucial.
Does email marketing still work in 2021?
If you've been following me for some time now, there's a chance you already know my stance on this.
Here's the short version:
When I started my online clothing business, it brought $80,000 in sales in its first year.
Majority of my visitors came from Instagram influencer marketing.
And at the time, I didn't have an email marketing service set up.
So when Instagram changed their algorithm, my Instagram's engagement tanked!
This caused my website's traffic to go from, literally, 100-0 real quick.
My sales plummetted and because I didn't have a proper email marketing service set up, there was no way for me to contact former visitors and market my products.
It was a devastating experience and it took an entire year for me to rethink my strategy and work towards building a customer base.
Basically, I had to start from scratch.
Moral of the story, if you run an online website, you must have a proper email marketing service set up!
How does email marketing work?
Firstly, you'll need to sign-up for an email marketing service (explained in the next section).
Once you have it set up, you'll need to integrate it with your WordPress website.
This process requires installation of a plugin, with a few clicks here and there (I will walk you through it).
Secondly, you'll want to create a pop-up style form.
So when people visit your website, that form will automatically pop up and offer them something of value, in exchange for their email address.
You may be familiar with what a newsletter sign-up form looks like.
Take a look at mine:
Once your visitors sign-up to your newsletter, they'll automatically be added to your mailing list.
You can access this mailing list through your email marketing provider's dashboard.
Thereafter, you can send emails to your subscribers and offer more valuable content on a weekly basis.
But keep in mind, you don't want to annoy them by sending daily emails; otherwise they may unsubscribe.
Setting Up Email Marketing
FREE MailerLite Plan
Although there are many email marketing services to choose from, MailerLite offers very competitive price plans.
This is especially great for new bloggers on a budget and no credit card is required to sign-up either, woohoo!
With their free plan, you can send up to 12,000 emails per month and have up to 1,000 subscribers.
Once you start to grow your email list, you can always upgrade to one of their paid plans– starting at just $10/month.
Compared with other providers, this is a bargain.
Moreover, their platform is very easy to use with a clean user-interface and a drag and drop email builder.
Here, I will walk you through setting up your account with MailerLite.
The cool thing about this provider is they offer 24/7 email support, even with the free account.
Step 1: Create Your Account
Click here to go to MailerLite.
Then click Sign up free.
Step 2: Enter information
Enter all required information and click Create my account.
Once directed to the welcome page, click on Complete profile.
Here, you'll enter all required information and click the orange Save button.
Click Request approval.
Fyi: Don't let the approval part discourage you. This is just to make sure you are not a robot or spam account.
Select your verification method, enter your website URL and click Next.
Enter the email address associated with your website.
For example, mine is info@ihatedmyboss.com.
Then click Next.
You will receive a confirmation email to the email address you provided in the step above.
Confirm your email address.
The approval process can take up to 24 hours.
You are now all set!
In the meantime, feel free to access your MailerLite dashboard and explore all the features.
10. How to Monetize Your Blog
Perhaps the moment you've been waiting for…
Let's talk money!
There are several different ways you can make money from blogging:
Create your own product
Sponsored work
Freelance
Affiliate marketing
Ad Networks
Let's talk about each of these monetization options:
1. Create Your Own Product
By far the best way to make a ton of money and earn passive income is through creating your own product.
This gives you full control over your product and allows you to create your own personal brand.
One of the most common types of products bloggers create are online courses.
Podia is one of the best online course creation platform for beginner bloggers.
You can read my in-depth Podia review by clicking here.
Moreover, you also have the flexibility to set a price you feel is fair according to the value you provide.
And most importantly…
Your product is unique because it's something you have curated and tailored to fit your audience.
Though the thought of creating your own product may sound a bit scary…
Remember this– you already are a content creator. You have published blogs that provide valuable information to your readers.
When you create a loyal audience, they trust your recommendations and even more so, are highly likely to purchase your products!
This is why it's so important to create that email list and offer a freebie to your readers so they can sign-up.
Once you've launched your new product, email your squad and explain the benefits and value it will provide them.
To further promote your products, you can mention them in your relevant blog posts and run cheap ads on Pinterest and Facebook.
Here are some examples of products you can create:
Online courses
Printables (journals)
Digital products (eBooks)
Membership programs (podcast or fitness)
Read next: Why Podia is the Best Online Course Creation Platform for Bloggers
2. Sponsored Work
What is sponsored work? This is when companies or other bloggers pay you to write about their products, services or brand.
For example: When bloggers create an online course, they will pay other bloggers to write a blog post about their product.
However, for companies to pay you for sponsored work, they typically require some amount of traffic on your website.
This is to ensure you have active readers on your website who are actually clicking on your blog posts.
The cool thing about sponsored work is that you set your own fees. I know of some bloggers who charge upwards of $2,000 and more to write sponsored content!
Though sponsored work is not the fastest way to make money as a new blogger, it's still a viable option to make tons of money once your readership grows to 10,000+ a month.
Examples of sponsored work:
Write Blog Posts
Review Products/Services
Create Sponsored Videos (YouTube)
3. Freelance
As a freelancer, you're essentially using your skillset to monetize (sell as a service).
For example, I offer one-on-one coaching services and have created a couple of different packages to accommodate different clients' needs.
This is a great way to build authority within your industry or niche.
And as you gain more experience and add more value, you can always increase your fees.
Examples of some freelance skillsets are:
Photography
Consulting
Social Media Manager
Web Design
Writing
Coaching (1:1)
Public Speaking (companies will pay you to speak at their events)
Think of it this way: any skillset that provides value can be monetized (which is pretty much any).
And if you want to promote your services outside of your blog, check out Fiverr.
It's a freelancing platform that allows you to offer your services to companies and individuals around the globe.
This is a great way to gain freelancing experience and establish authority within your industry, and then adding those jobs to your portfolio.
4. Affiliate Marketing
For many bloggers, affiliate marketing has become the largest source of revenue to generate passive income.
Though creating your own products can be far more profitable, if done the right way…
Truth is– it takes time.
You first gotta figure out who your audience is, identify their underlying problem, figure out a feasible solution, and finally– create a product and then promote it.
In the meantime, however, one of the quickest ways to monetize your blog is through affiliate marketing.
The greatest benefit to this is you don't have to worry about the process of creating a product because the product is already there.
And when you have mutliple partnerships with other companies, this income stream can be sa-weeet!
FYI: some affiliate programs may not pay you immediately. They typically pay on a 30-60 day cycle.
Examples of making money through affiliate marketing:
Basically, any products or services you use yourself, that is relevant to your niche, most of them will have some sort of affiliate program available.

Simply visit their website or contact them and ask.
RELATED POST: 13 Best Affiliate Marketing Programs For New Bloggers
5. Ad Networks
Have you ever noticed ads on blog posts? Those are ads displayed from advertising networks.
Advertising agencies will pay you when you include ads on your website or blog.
The payout varies per every advertising agency.
However, some of the common types of payouts is cost-per-click (CPC) and cost-per-mille (CPM).
Cost-per-click is when the ad agency pays you a certain set amount every time a reader clicks on the ad displayed.
On the other hand, cost-per-mille (mille is Latin for 'thousands'), also known as cost-per-thousand, is when the ad agency pays you per every 1,000 people who viewed the ad.
So for example, let's say you display an ad on your blog post and it's viewed 10,000 times within a 30-day period.
If an ad agency pays you $10.00 for every 1,000 impressions of its ad, your payout will be $100.
Examples of advertising networks:
Mediavine
Google Adsense
Media.net
Propeller Ads
BuySellAds
Whichever route you choose, just know that it's a fun ride and super encouraging when you get your very first payout!
It'll be worth it!
Wrapping Up: How to Start A Blog and Make Money in 2021
You're a trooper! I really hope this free guide on how to start a blog and make money was valuable and helped you launch your very own profitable blog.
I know it was a lot of information to process, so be sure to bookmark this page and refer back to it every now and again.
Let me know how your blogging journey is coming along, too! I would love to hear from you, so be sure to drop a comment below and I'll be happy to answer any questions.
Thank you for reading my guide on how to start a blog and make money!
P.S. If you know anyone who would find this guide helpful, it would mean the world to me if you can share this post with them.
Happy blogging!
-Serish
Related Articles: