Last Updated on April 13, 2021 by Serish | I Hated My Boss
Are you a beginner blogger looking for the best affiliate programs to join now? Even if you don't have a blog, you can still earn passive income with affiliate marketing.
But a common roadblock most beginner bloggers face is having their affiliate application denied due to lack of website visitors.
I too have walked down that road, friend. And it's discouraging as heck!
Fortunately, there are several affiliate programs for beginners to start earning right away. In fact, I made $50 my very first month blogging.
In this post, I'm sharing 13 best affiliate programs for beginners to join today.
Let's take a look!
What is Affiliate Marketing, really?
In a nutshell, affiliate marketing is when you promote products and services for other companies using a unique link.
Once someone purchases the product or service you're promoting, you'll get a cut from the sale.
It's a smart way to earn passive income. This is income you can make while you sleep, or on a plane ride to your dream destination.
In fact, affiliate marketing has allowed many bloggers to quit their day job and earn a pretty handsome income (we're talking six-figures and even millions).
The payout structure varies per affiliate program, but typically it's a percentage of the sale, or a fixed amount.
For example, if a company charges $100 for a product and the payout is 20% of the sale, your commission will be $20.
Now imagine if five people bought that product, you'd make $100 just like that!
Wanna read this later? Pin it here:
(This post contains affiliate links. I only recommend products and services I absolutely love. Thanks for your support!)
How does Affiliate Marketing work?
To get started with affiliate marketing, you'll apply to the program you want to join by answering a few questions.
These questions are typically related to your niche, your audience, and how you plan to promote the products and services.
You'll then wait to receive an approval email.
Once approved, you'll get access to your affiliate dashboard. Here, you can find your personalized affiliate links, your payout structure, sales and stats.
**Please note: Yes, it's likely that you may not get approved for every program you apply for, as requirements vary from company to company. But you'll still have an enormous pool of programs you can apply to within your niche.
And it never hurts to try! I've applied to some programs with strict rules and to my surprise, still got approved and paid!
Which brings me to this…
How I made my first $50 affiliate sale with a 30-day old blog
It really is true– you CAN earn passive income through affiliate marketing while you sleep!
And that's exactly what happened to me. I woke up one fine morning to an email from an affiliate congratulating me on my very first affiliate sale with them.
I had to slap myself because for one, I couldn't believe what I was reading.
Secondly, my blog was less than 30 days live and the questions running through mind was how? When? Fo'real?!
To my surprise, someone clicked on my Pinterest pin about the best web hosting services for bloggers, and signed up to a hosting provider I recommended.
Now, I'm not sharing these screenshots to brag.
I just truly want you to see for yourself that affiliate marketing really does work and you don't need to be a pro to make money through this passive income channel.
And check thist out:
The above image shows that only 5 people clicked on my affiliate link and out of those 5, one converted into a sale.
That is GOLDEN!
It's no secret that you MUST have a good pinning strategy in place and create high-converting pins that people actually want to click.
To help you, I've put together this free guide on Pinterest best practices and how I managed to get 1,500 pageviews my first month blogging. You'll also find a free Pin Design Checklist in the guide to help you create clickable pins.
Haven't started your blog yet? Learn how to start, grow and make money fast with your blog in my free 7-day online course here:
13 Best Affiliate Programs for Beginners To Join Now
As promised, below is a list of the best affiliate marketing programs for beginners to join today.
I've also included a brief analysis of each program so you can apply as soon as possible and start making money online fast!
1. Bluehost
If you already have an online business or blog, that means you've signed up with a hosting provider. And almost every hosting service offers an affiliate program.
Nonetheless, Bluehost has become nearly every blogger's favorite affiliate program. Not only do they pay high commissions, but they truly are one of the best hosting providers on the market today.
With competitive pricing plans, they offer a free domain for the first year, free SSL certificate, and a top-notch 24/7 customer support available to help you with any problems.
As a Bluehost affiliate, you have an endless earning potential with absolutely no cap on commissions.
Commission: $65+ (plus seasonal promos and bonuses)
2. ShareASale
Think of ShareASale like the Uber of affiliate programs. Basically, they connect you with a large pool of affiliate programs.
Once you're approved with ShareASale, you can then apply to hundreds of affiliate programs within your dashboard.

Additionally, what I love most about their program is that they'll even pay you for referring affiliates.
Commission: 15% for referring affiliates; otherwise payouts vary per program
3. Ultimate Bundles
Another blogger favorite, Ultimate Bundles not only offers a sweet payout, but their bundles are extremely helpful for bloggers.
Basically, they put together bundles of digital products (such as online courses, eBooks and other helpful resources) at ridiculously discounted prices.
For example, you can buy a bundle valued at over $2,000 for just forty bucks.
In fact, you can even sign up as a contributor and earn a generous commission by offering to sell your own digital products on their platform.
Commision: 40% of every sale as an affiliate, or 70% as a contributor (yes, you read that right!)
4. Grammarly
Grammarly is a digital writing tool that detects grammar, punctuation and spelling errors.
It's actually an amazing tool for all bloggers and content creators to double check their work before publishing.
Almost anyone can join as an affiliate and what's super cool about their program is that they'll even pay you when someone signs up for their free account.
Commission: $0.20-$20 per registration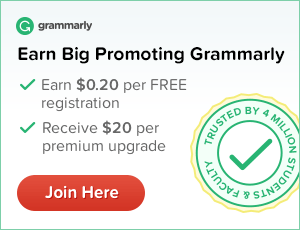 5. CJ Affiliate
Another amazing affiliate programs best for beginners is CJ Affiliate– one of the largest (and oldest) affiliate networks in the world.
CJ Affiliate works similar to ShareASale, where you can literally find thousands of products you want to promote, based on your niche.
Here's how it works: apply to join CJ Affiliate for free, and once approved, you can apply to a huge pool of other affiliate programs within their network.
Commission: varies per program
6. Tailwind
Tailwind is a scheduling tool for Pinterest and Instagram. In fact, it's a must-have tool if you want your blog traffic to grow tremendously.
Tailwind offers two types of affiliate programs:
Apply for Tailwind affiliate through ShareASale
Sign up for Tailwind (free trial) and refer friends
When you apply for Tailwind through ShareASale, you can make up to 15% per sale.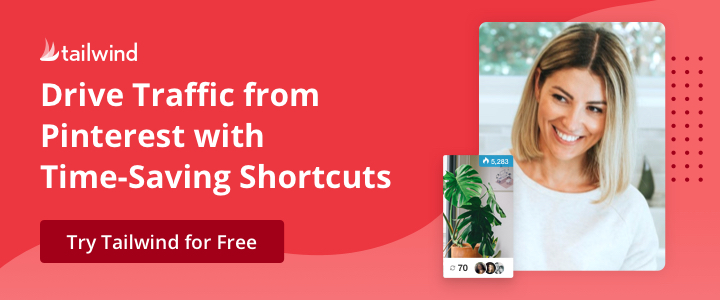 On the other hand, if you refer friends to Tailwind, you'll receive a $15 account credit for every person that signs up for a paid plan.
Basically, by referring friends, you can get your monthly Tailwind subscription paid off.
Commission: 15% recurring commission through ShareASale, or a $15 credit towards your account for referring friends
Related Post:
7. Amazon Associates
By far one of the best affiliate programs for beginners to join now is Amazon Associates.
Did you know Amazon was the first widely known company to offer an affiliate program? Every year, millions of new businesses and individuals sell on Amazon.
Joining their program is quite simple, and you'll need an Amazon account before you join the affiliate program. It's free and easy to set up.
Upon approval, you can grab your own personalized links for the specific products you want to promote.
Commission: varies depending on category. Earn up to 10%

8. FlexOffers
FlexOffers is another well-known affiliate network that connects you with thousands of affiliate programs.
With a wide range of categories to choose from, FlexOffers is excellent for all sorts of blogging categories and niches.
Some of these categories include business, clothing, entertainment, legal services, sports and fitness– to name a few.
Additionally, you can also refer-a-friend to their affiliate program and earn more.
Once they're approved, you receive a percentage of their sales (up to 50%!). Quite neat, eh?
Commission: varies per program
9. Respondent.io
As mentioned in my post about the best work from home jobs, I discussed how focus groups work and how I've earned thousands of dollars by simply giving my opinion.
With Respondent, you can earn $50 each time you refer a qualified participant to a market research study.
Regardless of your niche, you can still make extra cash by simply referring your friends and family.
Commission: $50 per qualified participant
Related Posts:
10. ConvertKit
If you're a new blogger or business owner, you must have a proper email marketing service set up right away.
I personally use ConvertKit for my blogging and business needs, and it's been the best email automation tool I've used thus far.
ConvertKit is an email marketing service that allows bloggers and business owners to grow and stay connected with their audience and customers.
In fact, you don't even need to be a ConvertKit customer to promote their products.
Their only requirement is to cater to an audience who would benefit from their email marketing tool (which is pretty much any niche).
Commission: 30% recurring commission for every paid plan
11. Podia
Podia is one of the best online course creation platforms on the market today.
Their super easy-to-use platform allows bloggers and content creators to create and sell online courses, along with other digital products.
Some examples are digital downloads, memberships and webinars.
In fact, my free eCourse: "How to Start A Six-Figure Blog" is built on this platform.
Moreover, their affiliate application process is stupid-easy and commission is generous.
Commission: 30% recurring commission for every paid plan
12. WP Engine
One of the highest paying affiliates in the game of hosting, WP Engine is specifically tailored to host WordPress websites.
In addition, their affiliate program is in collaboration with StudioPress themes (Genesis Framework is one of the fastest-known WordPress themes for bloggers.)
You can apply to the WP Engine affiliate through ShareASale.
Commission: $200 minimum for WP Engine; 35% of StudioPress theme sales
13. Teachable
Similar to Podia, Teachable is an all-in-one platform allowing creators to create and sell online courses.
Their commission structure is also pretty sweet, earning you a commission for the lifetime of the account.
For example, if someone purchases a Teachable plan using your unique link, for every month they pay– you get paid.
Commission: 30% recurring commission
There ya have it! A list of 13 best affiliate marketing programs for beginners to join now.
Whether you're a beginner or expert in your niche, affiliate marketing is an excellent source of passive income.
The best part is you don't need to create your own product and worry about any overhead expenses. Simply apply to a program and start earning right away.
For a complete guide on how to make money through affiliate marketing, check out this detailed blogging course.
What affiliate programs are you currently apart of? Let me know in the comments below!
Also, if you found this post helpful, it would mean the world to me if you could share it:
I Think You'll Also Like: